_Jesus_ Isaiah 9:6 The Government Leader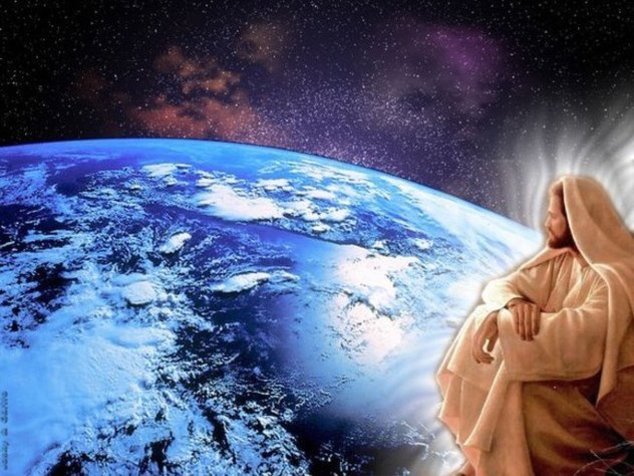 Jesus is the only way to make it out of this world alive!
The Father the Son and the Holy Spirit as One God!
John 18:36 Jesus answered, my Kingdom is not an earthly kingdom.
If it were my followers would fight to keep me from being handed over
to the Jewish leaders. But my Kingdom is not of this world. John 14:6
Jesus told him, I am the way, the truth, and the life. No one can come
to the Father except through me.
Isaiah 9:6 For a child is born to us, a son is given to us. The government
will rest on his shoulders. And he will be called: Wonderful Counselor,
Mighty God, Everlasting Father, Prince of Peace.
John 12:46 (NLT) I have come as a light (potential energy) to shine in the
dark (matter; frozen energy)
Romans 13:12 (NIV) The night is nearly over (our Modern Age); the day
is almost here (The Space Age). So let us put aside the deeds of darkness
and put on the armor of light (the Spiritual shield of Truth).
John 14:16 (KJV) And I will pray the Father, and he shall give you another
Comforter, that he may abide with you forever.
Luke 17:26 (NIV) Just as it was in the days of Noah, so also will it be in
the days of the Son of Man (the Comforter).
Matthew 23:39 For I tell you, you will not see me (Jesus) again until you
say, Blessed is he (the Comforter) who comes in the name of the Lord
(the Holy Spirit, the Third Person of The Trinity).
Unless Time is Shortened, not a Single Person will Survive.
If a giant meteorite would strike the earth, we would all cease to exist.
We would have no hope for salvation; all mankind would go in hell. This
would include all mankind since Adam and Eve up to this day. It
includes us also (members of this website). We would go in hell if we
could not get the job done by fulfilling the prophecy correctly and on
time! Salvation is in our future, like the Bible says; Romans 10:9… you
will be saved!
Luckily we all have a God who loves humanity and has a Divine Plan for
us in the future. The real key to success is not your business, but to have
the ability to Live Forever! Animal species, on the other hand, will
become extinct. It is impossible for animals to live forever. Animals do
not have Souls. This is why they will not go in hell. Good news for
animal lovers. The Angels will have the authority to bring back domestic
family pets to life again in the same furry body with the same spirit.
All Would Go in Hell if Time Were not Shortened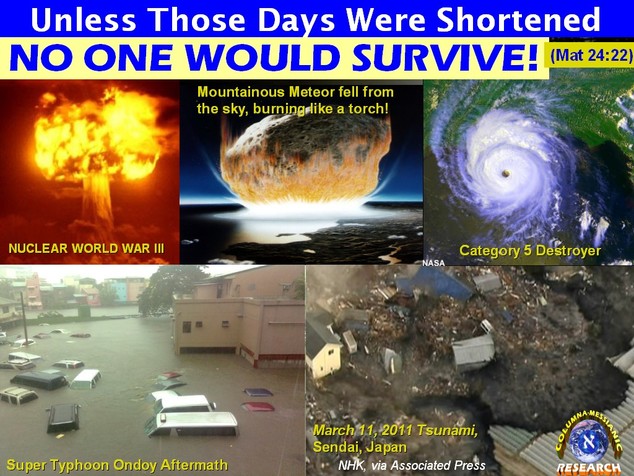 Psalm 143:2… for no one living is righteous before you (God).
Most scientists believe that we could destroy ourselves within the next
300 years from now. According to the Bible (New and Old Testament),
we (mankind) is not capable of saving themselves. We are all heading for
hell (complete self-destruction) unless we all make an effort to change
the world for the better. By obeying the Holy Spirit and joining forces
together we can defeat Satan.
Romans 3:23 … we all fall short of God's glorious standard (God's rules).
Matthew 24:22 (NLT) In fact, unless that time of calamity is shortened,
not a single person will survive. But it will be shortened for the sake of
God's chosen ones (The Elites also known in the Bible as The Elects).
Romans 3:10 As it is written (in the Old Testament): There is no one
righteous, not even one; Ver.11 there is no one who understands; there
is no one who seeks God. Ver.12 All have turned away, they have together
become worthless; there is no one who does good, not even one.
God Does Not Play Dice with the Universe
Albert Einstein's quest for a unified theory (the theory of everything)
Albert Einstein (German) March/14/1879 – April/18/1955 was motivated
by an intellectual need to unify the forces of nature. He felt very
strongly that all of nature must be described by a single theory. "The
intellect seeking after an integrated theory cannot rest content with the
assumption that there exist two distinct fields totally independent of
each other by their nature,"
Though his own work never produced a useful physical theory, Einstein
established unification as an important goal of physics. Indeed a theory
of everything is commonly called the "holy grail" of modern physics.
Einstein would probably be pleased that so many physicists are
enthusiastically devoting their careers to pursuing his dream.
Einstein's E=mc² is an important scientific formula, which helps us to
pave the way for Eternal Life. The wealth of money (Human Spirits)
does not last; it is the hard work through the Holy Spirit that endures
forever. We are saved though the Grace in Christ and hard work through
the Holy Spirit (the Spirit comes from energy, "the Spirit is free Energy").
John 6:27 (NLV) Do not work for food that does not last. Work for food
(the Holy Spirit) that lasts forever. The Son of Man (the Comforter) will
give you that kind of food (Knowledge and Wisdom). God the Father has
shown He will do this."
Philippians 2:12 (NIV)… continue to work out your salvation with fear
and trembling,
Ephesians 2:8 For it is by grace you have been saved, through faith and
this is not from yourselves, it is the gift of God.
3 John 8 We ought therefore to show hospitality to such people so that
we may work together for the truth.
John 11:25 "I Am the Resurrection and the Life!"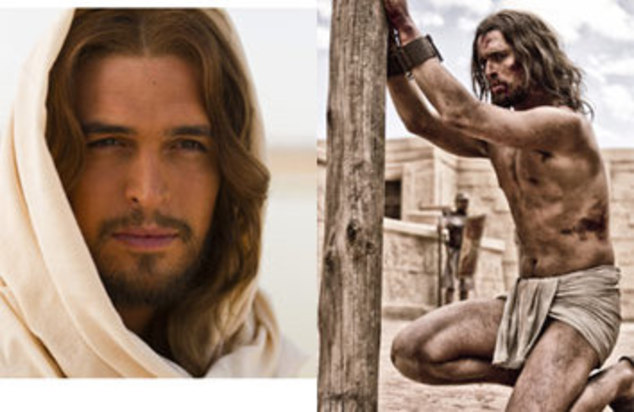 Introduction to the sermon on the mountain "the Beatitudes"
Matthew 5:1 Now when Jesus saw the crowds, he went up on a mountain
side and sat down. His disciples came to him, Ver.2 and he began to
teach them. The Beatitudes He said:
Ver.3 Blessed are the poor in spirit, for theirs is the
kingdom of heaven.
Ver.4 Blessed are those who mourn, for they will be
comforted.
Ver.5 Blessed are the meek, for they will inherit the earth.
Ver.6 Blessed are those who hunger and thirst for
righteousness, for they will be filled.
Ver.7 Blessed are the merciful, for they will be shown mercy.
Ver.8 Blessed are the pure in heart, for they will see God.
Ver.9 Blessed are the peacemakers, for they will be called
children of God.
Ver.10 Blessed are those who are persecuted because of
righteousness, for theirs is the kingdom of heaven.
Ver.11 Blessed are you when people insult you, persecute you and falsely
say all kinds of evil against you because of me. Ver.12 Rejoice and be
glad, because great is your reward in heaven (our Subconscious Minds),
for in the same way, they persecuted the prophets who were before you.
500 years ago Scientists were persecuted when they first discovered
that our planet was round. Average people thought it was a joke that the
planet could be round. Hopefully, our modern society will have a little
more respect for us by understanding our work now, than in those days.
Luke 18:8… when the Son of Man (the Comforter) comes, will he find
faith on the earth?
John 12:9 Meanwhile a large crowd of Jews found out that Jesus was
there and came, not only because of him but also to see Lazarus, whom
he had raised from the dead. Ver.10 So the chief priests made plans to
kill Lazarus as well, Ver.11 for on account of him many of the Jews were
going over to Jesus and believing in him.
Acts 10:40 but God raised him (Jesus) from the dead on the third day and
caused him to be seen.
Acts 13:34 God raised him from the dead so that he will never be subject
to decay. As God has said, 'I will give you the holy and sure blessings
promised to David.'
Romans 8:11 And if the Spirit of him (God the Father) who raised Jesus
from the dead is living in you, he (Holy Spirit) who raised Christ from
the dead will also give life (immortality) to your mortal bodies because
of his Spirit who lives in you.
The Comforter Will Prepare the Way for the Second Coming of Christ
Matthew 3:11 I (John) baptize you with water for repentance. But after
me comes one who is more powerful than I, whose sandals I am not
worthy to carry. He (the Comforter) will baptize you with the Holy Spirit
(Electromagnetic Field) and fire (Cosmic Energy).
2000 years ago John the Baptiste was paving the way for Jesus. Now it is
the Comforter's turn to pave the way for the Second Coming of Jesus
with the Bible and its ancient mysteries coming to life.
John 4:14 but whoever drinks the water I give them will never thirst.
Indeed, the water I give them will become in them a spring of water
welling up to eternal life.
Whoever Believes in Me (Jesus)...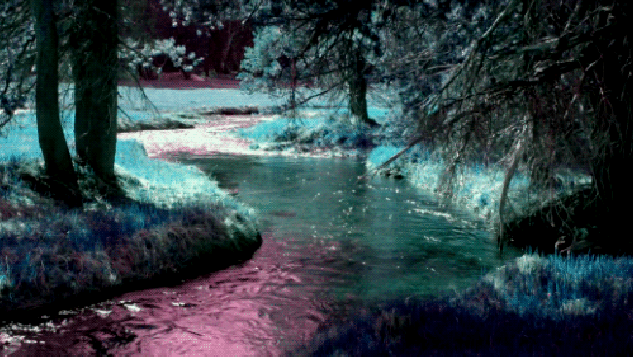 John 7:38… "Rivers of Living Water will Flow from Within Them."
Hebrews 8:10 This is the covenant I will establish with the people of
Israel after that time, declares the Lord. I will put my laws in their minds
and write them on their hearts. I will be their God, and they will be my
people.
Proverbs 14:6 (NLT) A mocker seeks wisdom and never finds it, but
knowledge comes easily to those with understanding. Ver.7 Stay away
from fools, for you will not find knowledge on their lips.
Luke 11:10 (NIV) For everyone (Jews or Gentiles) who asks, receives.
Everyone who seeks finds. And to everyone who knocks, the door will
be opened.
Isaiah 30:18 So the Lord (God The Father) must wait for you to come to
him so he can show you his love and compassion. For the Lord is a
faithful God. Blessed are those who wait for his help.
Revelation 7:17 For the Lamb (Jesus Christ) at the center of the throne
will be their shepherd; he will lead them to springs of living water. And
God will wipe away every tear from their eyes.
The Parable of the Lost Sheep
Luke 15:1 Now the tax collectors and sinners were all gathering around
to hear Jesus. Ver.2 But the Pharisees and the teachers of the law
muttered, "This man welcomes sinners and eats with them." Ver.3 Then
Jesus told them this parable: Ver.4 Suppose one of you has a hundred
sheep and loses one of them. Does not he leave the ninety-nine in the
open country and go after the lost sheep until he finds it?
Ver.5 And when he finds it, he joyfully puts it on his shoulders Ver.6 and
goes home. Then he calls his friends and neighbors together and says,
Rejoice with me; I have found my lost sheep. Ver.7 I tell you that in the
same way there will be more rejoicing in heaven over one sinner who
repents than over ninety-nine righteous persons who do not need to
repent.
Luke 19:10 For the Son of Man (Jesus) came to seek and to save the lost.
Mark 8:35 For whoever wants to save their life will lose it, but whoever
loses their life for me and for the gospel will save it.
Luke 15:10… there is rejoicing in the presence of the angels of God over
one sinner who repents.
Luke 20:36 and they (God's Elites) can no longer die; for they are like the
angels. They are God's children, since they are children of the
resurrection
Revelation 22:12 Look, I am (Jesus) coming soon! My reward is with me,
and I will give to each person according to what they have done.
Some of the judgments of the prophets from the New and Old
Testaments including the Quran, etc. came from the prophets
themselves and not from the Holy Spirit. 2000 years ago Jesus did
disagree with some of the prophets of the Old Testament and this was
one of the reasons Jewish people killed him. Therefore do not support
every word from the Bible or even less from the Quran, because the
Bible is not completely perfect.
Matthew 5:48 Be perfect, therefore, as your heavenly Father is perfect.
The ideas or feelings expressed by the prophets in the Bible were a
mixture of mankind with the Holy Spirit from that time. Today you will
see from this website that the Holy Spirit is much more refined than
ever before. Like the Bible says only God the Father is Perfect, not even
the Angels of Heaven are perfect! Perfection gradually comes from the
core (the center of your Soul; Energy) and it takes millions of years to
achieve this reality.
2 Samuel 22:31 As for God (the Father), his way is perfect:
Job 4:18 (NLV) He (God The Father) puts no trust even in His servants
(The Prophets or the Bible). He finds mistakes among His angels (ufo).
Psalm 119:43 Never take your (God) word of truth from my mouth
(mankind), for I have put my hope in your laws (the Future laws of the
Millennium).
Matthew 7:2 For in the same way you judge others, you will be judged…
The Bible, the Quran and some other religious books have a lot in
common. For example: both books support the idea of killing
homosexuals. If someone steals they will cut off their hands, or stoning
a woman to death if she commits adultery. Furthermore, the Bible
encourages polygamy; these men can get away with marrying some
innocent underage girls just for their own satisfaction.
Some counties know very well that these people they are breaking the
law, but they cannot arrest them because they are protected by religion.
Maybe in those days it was okay to follow these evil acts, but in our
modern days these people are considered to be sociopaths. It does not
matter for religious people if the Bible or other books are promoting
these evil acts; the fact is some of the text in the Bible is wrong under
the Eyes and the Law of God the Father.
Just to make sense out of all that, we have highly educated religious
people today who cannot even make up their own minds. The bible
restricts them from making their own judgment about what is fair or
not. The problem is that the people from thousands of years ago were
not educated like the average people are today to make the right
decision (judgment) about what is right or wrong for our modern age.
Even up to now people are forced to consider the bible as being perfect.
This is a prison of the mind.
The logical factor behind it all is that mankind does not need to be
perfect in order to survive. One of the main reasons we exist is to reach
the Millennium that we are living in today for judgment. The key for us
was to carry human's energy (human consciousness) from generation to
generation for several from thousands of years ago until the Holy Spirit
begins to work seriously together with us (human's Spirit). The angels
have been monitoring us for thousands of years to make sure that our
consciousness (energy) makes it up to today (the Millennium).
The reason we have the Bible today is not to judge us (humanity), but
for us to fulfill most of the prophecies written in the Bible. The time to
judge is now with the New Millennium. The prophets of God were not
chosen to judge humanity, but rather for us to reinforce their
prophecies by making it a reality today. In other words, all the prophets
except Jesus did not have the qualifications to judge the world.
John 12:47 "If anyone hears my (Jesus) words but does not keep them, I
do not judge that person. For I did not come to judge the world, but to
save the world."
Even though Jesus has the full authority to judge he did not do it at that
time because it was not the time for judging. He only judged the high
Jewish priests of that time. Some Jewish leaders thought they were
above the law or more special than Jesus by judging him. This is why
Jesus was forced to judge them in return. They were not doing God a
favor, butrather they were getting out of hand.
The Ancient Prophet's Own Words: Ezekiel 24:14…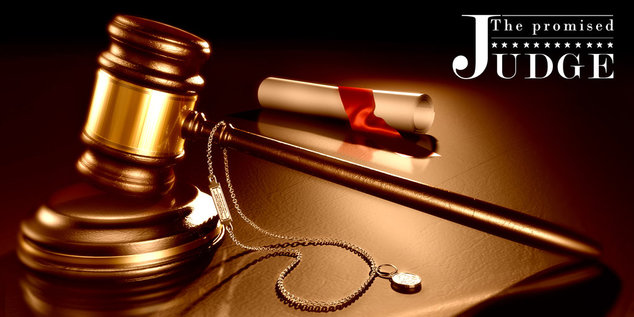 "You will be judged according to your conduct and your actions"
Acts 17:31 For he has set a day when he will judge the world with justice
by the man (the Comforter) he has appointed. He (God the Father) has
given proof of this to everyone by raising him (Jesus) from the dead.
1 Corinthians 4:5 Therefore judge nothing before the appointed time;
wait until the Lord (Holy Spirit) comes. He (the Comforter) will bring to
light what is hidden in darkness and will expose the motives of the
heart. At that time (our present Millennium) each will receive their
praise from God. There are only two categories of sin: internal sin and
external sin.
Acts 10:42 He commanded us to preach to the people (at that time) and
to testify that he (the Comforter) is the one whom God appointed as
judge of the living and the dead.
Ezekiel 24:14 I (God the Father) the Lord have spoken. The time has come
for me to act. I will not hold back; I will not have pity, nor will I relent.
You will be judged according to your conduct and your actions, declares
the Sovereign Lord (God have spoken throughout the prophet Ezekiel).
Ver.27 At that time (our 21st century) your mouth will be opened; you
(Ezekiel) will speak with him (the Comforter) and will no longer be silent.
So you will be a sign to them, and they will know that I am the Lord.
The real method of judging sin without using the cruelty of the Bible is
simpler that anyone can imagine. Firstly, your internal sin which is:
your own personal problems, addictions, bad habits, paranoia, etc.
Secondly, you have the external sin that causes problems for society:
stealing, bullying, arson, murder, etc. In fact, the Bible says "for all
have sinned: Romans 3:23." For example; it can take decades to get over
the addicting desire of smoking. Like they say "If you don't smoke, do
not start," and that saying goes for any other unnatural bad habits!
We will have more info on our other websites to help you manage and
completely illuminate your addictions, etc. In the long run, you will be
glad you exchanged your bad habits for the freedom of Eternal Life!
You will not rely only on your own emotional and physical feelings to
get true happiness. Gradually you will be transformed like the angels
of heaven without the need of emotional satisfaction.
Hebrews 12:23 to the church of the firstborn (Jesus), whose names are
written in heaven. You have come to God (the Father), the Judge of all, to
the spirits (Holy Spirit) of the righteous made perfect.
Revelation 20:4 I saw thrones on which were seated those (Elites) who
had been given authority to judge…
Exodus 3:2 There the angel of the Lord appeared to him (Moses) in
flames of fire from within a bush…
Job 38:1 Then the Lord answered Job from the whirlwind:
Acts 12:7 Suddenly an angel of the Lord appeared and a light shone in
the cell. He struck Peter on the side and woke him up…
2 Corinthians 12:2 I know a man in Christ who fourteen years ago was
caught up to the third heaven (another way of living). Whether it was in
the body or out of the body I do not know, God knows.
1 Peter 4:16 However, if you suffer as a Christian, do not be ashamed, but
praise God that you bear that name.
Mark 13:11 Whenever you are arrested and brought to trial, do not worry
beforehand about what to say. Just say whatever is given you at the time,
for it is not you speaking, but the Holy Spirit (EM Fields).
Mark 3:29 but whoever blasphemes against the Holy Spirit (Christians)
will never be forgiven; they are guilty of an eternal sin (in hell forever)."
Keep in mind that there are two types of Christians. You have false
Christians who only worship themselves to make themselves look good
to attract more people to their ministries. Then you have true Christians
who keep on informing society about the great danger of self-
destruction we are all facing today and ahead of us. These kinds of false
Christians do not care for the safety of this planet, or are completely
ignorant about it. They could also be in danger of facing hell themselves.
False Christians try to flatter society by giving them all kinds of nice
words that society wants to hear, 'instead of teaching them the right way
of Eternal Life! 'They will tell you 'everything will be okay', but in the
meantime humanity on this planet is gradually moving towards hell with
no chance of survival.
Mark 12:36 David himself, speaking by the Holy Spirit, declared: "The
Lord said to my Lord: "Sit at my right hand (of God the Father) until I put
your enemies under your feet."