_Cross_ Christians Focus on the Resurrection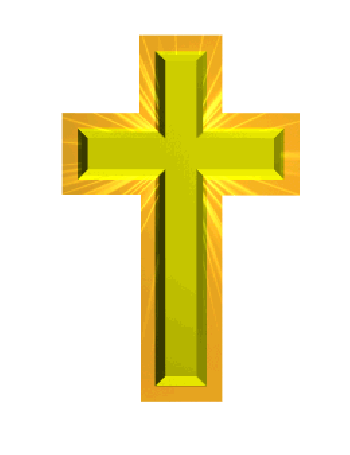 Mark 8:34 (NLT) Take Up Your Cross and Follow Me
Each time you make the sacrifice to break a bad habit for yourself, or to
help someone in need, that is the meaning of 'carrying your cross'.
What could be more important than being able to spend eternity with
your families and friends? Every day I find how little I know, but I do
not feel discouraged since God has given me an eternity in which to
learn more. Immortal beings have an eternity to learn the rules about
good and evil. The beginning of wisdom is the beginning of Knowledge.
John 12:32… And when I am lifted up from the earth (the world will
understand Jesus' philosophy) I will attract all people toward Me
(through CNN News, Fox News, Facebook, Google, etc.)
Living millions of years should be enough time to text tweets to your
lovely families and friends until you do not have the need to tweet with
your fingers anymore. In the future our hands will have no use for
communication. We will have other methods of communication
including telepathic communication (between two minds separated
over a distance without the use of the five known senses).
Mark 13:31 Heaven (Galaxy or our Subconscious) and earth will pass
away (will end), but my words (the Holy Spirit) will never pass away.
Ephesians 4:3 Make every effort to keep the unity of the Spirit through
the bond of peace.
1 Corinthians 15:45 So it is written: The first man Adam became a living
being; the last Adam (Jesus), a life-giving spirit.
One way or the other everyone will become Spirit. If you do not make
an effort to become the Spirit of God, then God will disconnect from
you and you will become a demonic spirit forever. You cannot avoid it!
Many people make a big deal out of hell, but in reality, hell is simply a
separation from God. If you are destined to go in hell it is because you
have chosen to go in hell even though it is a terrible state of mind to be.
You will have had all the opportunities you needed to avoid hell, but
you will prefer going in hell instead of joining us and living happily for
Eternity!
1 Corinthians 15:53… the imperishable… the mortal with immortality.
John 3:17 For God did not send his Son (Jesus) into the world to condemn
the world, but to save the world through him (by dying on the Cross).
Eternity is referred to all the time by mankind (three dimensional world
excluding the bible) & the Christian viewpoint. But stop and think about
it for a moment, what does it mean? Many think that eternity means a
really long time or endless time. These concepts are helpful to some, but
they are not really accurate descriptions of eternity.
The difficulty we have is that we are creatures bound by time trying to
describe a timeless God. Our minds cannot comprehend eternity, but we
can make claims about what eternity is not.
Eternity literally means timelessness. It refers to the nonexistence of
time. God lives outside of time and is not limited by time. Although the
universe he created is in time, God is not.
Time marks the beginning of created existence, and because God never
began to exist it can have no application to him. Time is known to us by
a succession of events or the internal time clock in our bodies. It is the
way we account for consecutive changes in the universe.
God does not experience anything as a sequence of events. He does not
think or act in terms of step #1 then step #2 then step #3. He experiences
everything as one Eternal Now. He sees our entire earthly existence in
one eternal instant.
An interesting footnote to this issue of eternity is that modern science
claims that time, space, and matter are corelative, meaning they exist in
relation to each other. According to mankind's point of view, if God is in
time then He must also be made of matter and take up space. This would
mean a God who is limited by time, space, and matter. Hardly the God
described in the Bible (that God has no limitations).
We are living now in the world of Quantum Mechanics or the material
world. Soon we will Live Eternally in the world of Quantum Physics.
Angels of Heaven have been using this tool for 20 million years. It is
time for us to begin to take advantage of it. This tool will bring us closer
to the unknown God of Lights. From now on we will focus our attention
on pure light which is the healing light of faith. This method of thinking
will bring us closer to God the Father.
I Wish I Had More Time!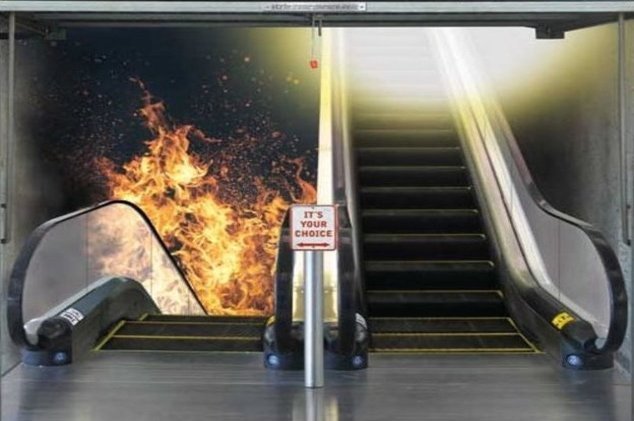 It is critical to take time to decide between "Hell or Heaven"
You have probably heard this saying many times before, "If only I had
more time!" The good news is the focus of our websites is mainly about
making more time to solve all problems. The reason we (mankind in
general) have so many problems is because we are trapped in the
present time and let the problems come to us. If we could do something
about these problems before they get to us, then most problems would
be solved ahead of time. Our civilization would be more in control of
the future than it is now.
Example: Angels who live in the future never have to deal with the
problem of not having enough time. They have the ability to move a few
steps ahead of the present time. Because of this, Angels can solve every
problem that comes up before complications reach the present time.
Their present is the future. When they look back at us we become the
past for them.
Like the 1985 Movie Called "Back to the Future"
Our primary goal (members of the website) is preparing our future to
defeat evil. The Guardian Angels always use the Holy Spirit as a tool to
fix problems the best they can for themselves and humans before the
present time reaches the future. The reason for that is because the
Angels Live in the Future.
You are probably asking yourselves this question: If the Angels of
Heaven are so advanced compared with us then why do they not share
their technology with us? It is because the Angels have made the
decision to live forever, and humanity has not even considered the idea
or are unaware that we have the capability to Live Eternally.
The Angels have no authority on earth to force us to change our ways.
Mankind must build their own destiny through Faith in God. If the
Angels were to impose their teaching on us on how to live, then at some
point we would be like slaves to them. Angels would burn a lot of
energy to constantly force us to change. This is the reason there will be
a judgment day. It is to eliminate those troublemakers who do not want
to live eternally and send them in hell. When evil is gone it will be
easier to interact with the Angels of Heaven and to learn about their
unbelievable high speed and advanced technology.
Example: A fly that lives only 15 to 30 days would not be compatible
with our lives of 80 to 100 years. For a human, the fly is there and then
it is gone. It is the same for us and the Angels who live millions of years.
If you are destined for hell it would be a waste of time to even be
friends with you. God prefers to look at us as Angels that will live
forever instead of humans that will cease to exist.
Stop for a minute and picture this; do you realize that Jesus is 2000
years old or young? Therefore, to compare Jesus with the Angels who
are 20 million years old, Jesus is still a little baby in this endless time!
Soon everyone will pay serious attention on how to live eternally
because no one will have any other choice. One good thing is certain;
we will not have to worry about running out of time! Everyone will live
Wealthy and Healthy Forever!
Our First Miracle will be to Reduce Drug Consumption
Society, in general, consumes many Doctor's prescription pills and
illegal drugs today due to stress and an uncertain future. The best thing
about the Holy Spirit is you do not need to take drugs, because the Holy
Spirit is like a natural drug. The Holy Spirit (the Comforter) is an
invisible person and friend with great benefits of wealth and healing
power just for you.
Let us compare the Holy Spirit to illegal drugs; for example drugs cost a
lot of money, but on the other hand the Spirit is totally free of charge.
Our future websites will help you to take advantage of the Holy Spirit as
a Spiritual tool that everyone can use for Reversing Aging. Not buying
illegal drugs will do a great favor to society by reducing crime activity
everywhere and putting these evil drug dealers out of business.
Revelation 21:6… To anyone who is thirsty, I will give the water of life.
It is a free gift.
Matthew 5:14 You are the Light of the World
Proverbs 8:17 I love those who love me, and those (Scientists) who seek
me find me (the true identity of God).
Matthew 7:7 (NLT) … Keep on seeking, and you will find. Keep on
knocking, and the door will be opened to you.
Mark 16:17 These miraculous signs will accompany those who believe
(in achieving immortality): They will cast out demons in my name, and
they will speak in new languages (the Spiritual insight about Quantum
Physics, Psychology, with scientific formulas, Biblical Experts, etc.).
1 John 2:8 ...The darkness (our modern age) is passing away and the true
light (the space age) shines instead
Fatima's Third Secret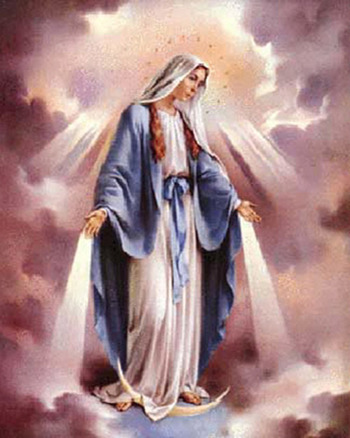 Our Lady of Fatima: Mother Mary
On the last visit, Oct. 13, 1917, the three children and 70,000 onlookers
beheld a series of solar transformations known as the Miracle of the Sun
in which the sun seemed to dance in the sky.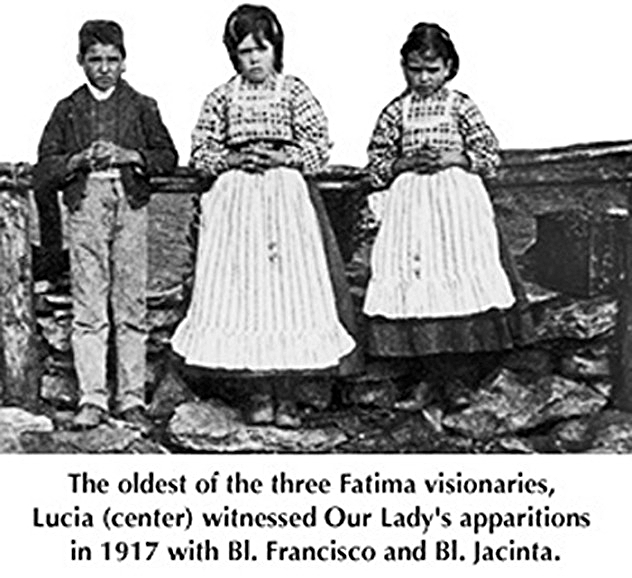 Francesco - Lucia - Jacinta
In 1917, in the village of Fatima, about 70 miles north of Lisbon in
Portugal, three peasant children reported seeing an apparition of the
blessed virgin Mary. They were about 8 years old. Lucia Santos, and her
cousins Francesco and Jacinta Marto.
On Sunday, May 13, 1917, the visions began. They were told to return
on the 13th of each month for six consecutive months. This they did and
received prophetic information from the visits. However; on October
13, 1917, before the miracle of the Sun, the heat from the sun event
dried the clothes of the witnesses in the crowd. Why were Mary and the
Angels of Heaven sent to Fatima? Mother Mary appeared to the children
of Fatima to inform them about the important Third Secret. The secret
was to warn the people of the world about the End Time (the end of all
evil ages with a new beginning referring to a Worldwide Utopia).
According to the Fatima's Third Secret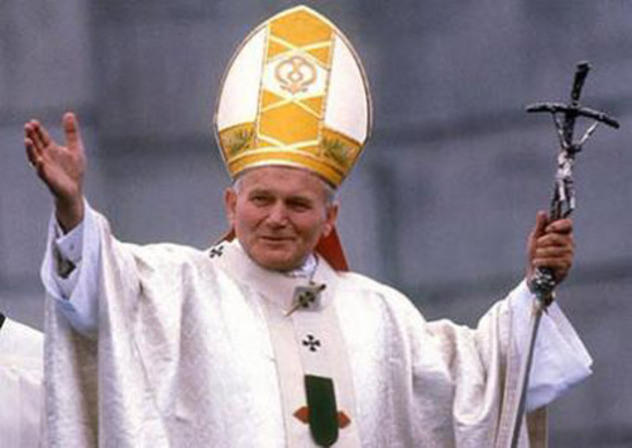 Pope John Paul II was the Sign of the Time!
Pope John Paul II was chosen by God the Father to awaken many
Nations hopelessly in despair. John Paul's mission was in part to engage
himself to visit as many countries as possible, and to encourage
mankind to keep-up the good faith in Jesus Christ. Following Pope John
Paul II was Pope Benedict 16th who was greatly in favor of the Fatima's
third secret that is known worldwide today.
Hebrews 9:28 so Christ was sacrificed once to take away the sins of
many people; and he will appear a second time, not to bear sin, but to
bring salvation to those who are waiting for him.
Isaiah 2:3 Many people shall come and say, come and let us go up to the
mountain of the Lord, to the house of the God of Jacob; He will teach us
his ways, and we shall walk in His paths. For out of Zion shall go forth
the law and the word of the Lord from Jerusalem.
Isaiah 2:4 He (the Comforter) shall judge between the nations, and
rebuke many people; They shall beat their swords into plowshares, and
their spears into pruning hooks; Nation shall not lift up sword against
nation, Neither shall they learn war anymore.
Isaiah 2:9 They shall not hurt nor destroy in all my holy mountain, For
the earth shall be full of the knowledge of the Lord as the waters cover
the sea.
The Second Coming of Jesus Christ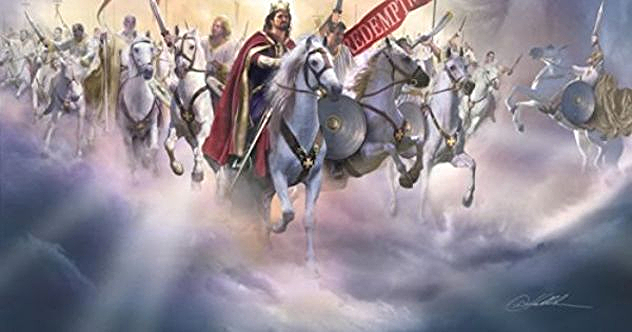 Jesus on a horse in the clouds with ten thousand Angels
Mark 13:26 Then everyone will see the Son of Man (Jesus) coming on the
clouds with great power and glory.
1 Peter 1:13 Therefore, with minds that are alert and fully sober, set your
hope on the grace to be brought to you when Jesus Christ is revealed at
his coming.
Most Christians see the second coming of the Christ as Jesus on a horse
in the clouds, but that is a myth. The real second coming will be much
more profound than anyone can imagine!
This will be the Real Second Coming of Christ for All Mankind to See.
Quantum Physics will be the ultimate solution to solve all problems on
Earth. Famine, Global Warming, Diseases, Wars, etc. will End. Every
natural disaster like Earthquakes, Hurricanes, Droughts, Meteorites,
Volcanoes, etc. will be reduced to almost nothing when Jesus comes back
with the mother ship.
Rev. 21:5 Look, I Am Making Everything New!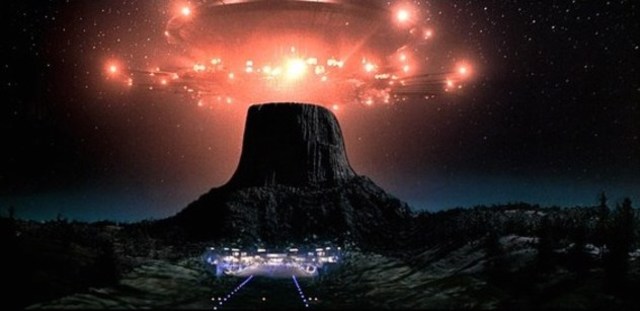 Yes Folks: We are entering the space age at full throttle!
In 2025 the New Jerusalem (Mother Ship) will come down just like in the
1977 film Close Encounters of the Third Kind.
Revelation 21:2 (NLT) And I saw the holy city, the New Jerusalem (King
David for all nations), coming down from God out of heaven like a bride
beautifully dressed for her husband.
Acts 1:7 (NIV) He (Jesus) said to them: It is not for you to know the times
or dates the Father has set by his own authority. Ver.8 But you will
receive power when the Holy Spirit comes on you; and you will be my
witnesses in Jerusalem, and in all Judea and Samaria, and to the ends of
the earth. Ver.9 After he said this, he was taken up before their very
eyes, and a cloud (a space ship) hid him from their sight.
Acts 1:10 They were looking intently up into the sky as he was going,
when suddenly two men (Angels; Extraterrestrial Beings disguised as
men) dressed in white stood beside them. Ver.11 Men of Galilee, they
said, why do you stand here looking into the sky? This same Jesus, who
has been taken from you into heaven, will come back in the same way
you have seen him go into heaven.
John 16:11 Judgment will come because the ruler of this world (Lucifer;
the spirit of matter) has already been judged (by humanity).
1 Corinthians 6:2 Do you not realize that someday we believers (in
Christ) will judge the world? And since you are going to judge the world,
you cannot decide even these little things among yourselves? Ver.3. You
do not realize that we will judge angels (Extraterrestrial Intelligence)? So
you should surely be able to resolve ordinary disputes (nations vs.
nations) in this life.
Revelation 21:10 So he (The Angel of God) took me in the Spirit to a great,
high mountain, and he showed me the holy city, Jerusalem (the Mother
Ship), descending out of heaven from God. Ver.11 It shone with the glory
of God and sparkled like a precious stone: like jasper as clear as crystal.
Matthew 24:14 And this gospel of the kingdom will be preached in the
whole world as a testimony to all nations, and then the end will come.
Quantum Physics (Modern Physics) is All about the Future
Extraterrestrial Intelligence will make contact with our civilization
officially for the first time in history! All media news reporters will be
on site to experience the events unfold. The Angels of Heaven, who are
now here on earth in Spirit, are not here to take control of our
civilization. They are here to help us permanently establish our
Worldwide Democracy for the beginning of the Millennium.
No righteous people with strong faith in God should fear the end of the
world (the years 2000 to 2025)! Instead everyone should rejoice about
the up-coming end time when evil will be the first to face Judgment Day!
Philippians 4:5 Let everyone see that you are considerate in all you do.
Remember, the Lord is coming soon.
Revelation 1:7 Look! He comes with the clouds of heaven. And everyone
will see him, even those who pierced him. And all the nations of the
world will mourn for him. Yes, Amen!
Ezekiel 11:22 Then the cherubim lifted their wings and rose into the air
with their wheels beside them, and the glory of the God of Israel (Space
Ship) hovered above them.
Matthew 24:14 And the Good News about the Kingdom will be preached
throughout (with our Websites) the whole world, so that all nations will
hear it; and then the end will come.